1. To connect a SolarEdge inverter to Know True-Up, you need the system's "Site ID" and an "API Key". The installing contractor will have the administrative access required for this.
2. In SolarEdge's monitoring portal, the "Site ID" can be found on the dashboard
3. The "API Key" is accessed in the "Admin" Tab of the SolarEdge Monitoring Portal. Click "Site Access" And "Access Control" once in the Admin tab.
4. Click "New Key" and click "Save". Important Note! You must click Save in order for SolarEdge to save the API and complete the connection.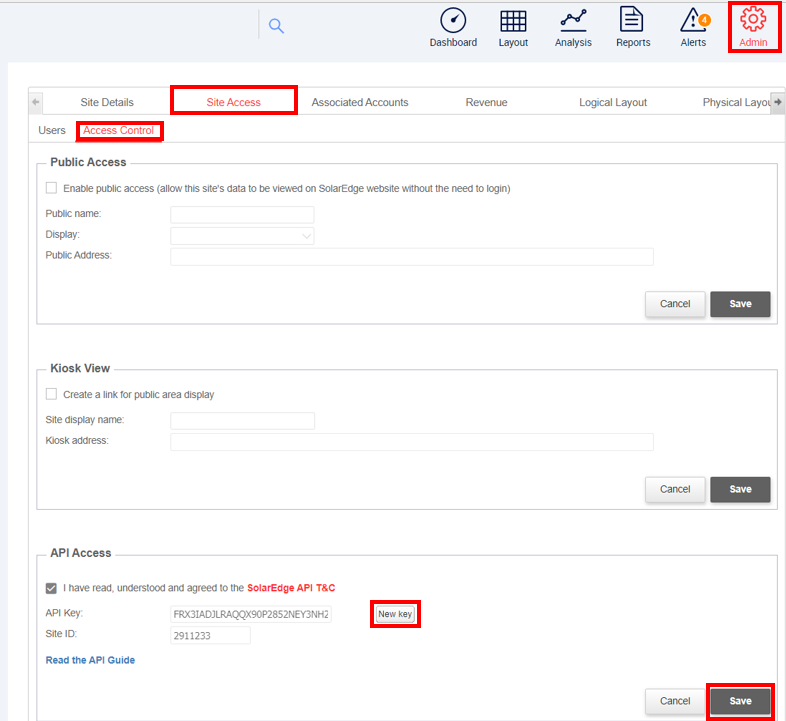 5. Now that you have the API Key and Site ID. Return to Know True-Up. Use the "Quick Connect Customer" and select the appropriate customer. Choose the Inverter type of SolarEdge and enter the API Key and Site ID as indicated in the red boxes. You can then choose an email to notify the customer of connection (or simply select none for no email) in the green box. Finally, click "Connect User" to finish the connection process.